We are constantly remined at Hornington that everything happens for a reason, and Ellie and Joe are the perfect example. They met at a job interview for a placement year at BMW in Reading. Naturally the pair got chatting and they realised they were both studying in Loughborough. That day, snow on the tracks had meant Joe's train back to uni had been cancelled so Ellie offered to give him a lift. They spent the next two hours in the car chatting and putting the world to rights. A few weeks later, both Ellie and Joe got the job and the rest, you could say, is history.
Ellie is possibly one of the most happy and smiley people we've ever met and she was just so excited to marry Joe. The morning of the wedding she and her bridesmaids, who had planned an amazing Hen Do in Bath, got ready in the Manor. the dresses were a beautiful forest green styled with fur shawls. Ellie's Bardot style dress with delicate lace detailing was beautiful.
The ceremony was held at Bolton Percy All Saint's and the service was led by their close friend and guest Vicar for the day Father Sean Gilbert who had travelled from South London to marry his friends. It was such a lovely personal touch and made it an even more unforgettable moment for our Bride and Groom.
When everyone returned to Hornington, we had prosecco and a cask of ale at the ready which went down very well! Once seated in the wedding barn, guests could really appreciate the work Ellie and Jo had put in to creating their dream day. The tables were named after places special to Ellie and Joe and each guest was gifted a little bag of Quality Street chocolate. Ellie is on the marketing team at Nestle and her latest project has been Quality Street, so it seemed only right that she have a huge, and I mean, HUGE tub of the chocolates for guests to help themselves to. It was so big, you could swim in it!
Joe's dad had been busy making a beautiful donut wall which sat at the back of the barn, next to the incredible wedding cake from the wonderful Barn Bakery. It featured tier upon tier of perfect little macarons each individually decorated and a surrounded by forest fruits and pretty blooms.
Ellie's dad Tim was so proud to give his daughter away and described Ellie as incredibly determined and super orgainsed! He was thrilled when Jo proposed to Ellie in the Bluebell Woods near his home.
Joe thanked Tim and Ellie's mum Marilyn and hoped that he and Ellie could have an equally happy, loving and lasting marriage as theirs, as they were approaching their 40th anniversary! Joe went on to thank his Groomsmen who were all family one way or another, including his brother Finn, brother in laws Andy and Jim, Ross, who often gets confused as Joe's twin, and his Best Man, best mate and oldest friend and cousin, Tom.
Joe revealed, although it probably didn't come as a shock to many, that it is no exaggeration to say that Ellie is organised to the letter. She has spent the last 7 years worrying about losing her surname until a few weeks ago when it finally sunk in and now she has become quiet excited about the prospect, mainly because it calls for a bit of life admin. She has already set up a new email address and arranged her old accounts to redirect her mail. 
To Joe, Ellie is a complete one off, beautiful, strong, independent, small in stature but a force of nature and he is blown away by her every day. There are so many reasons why Joe loves her but ultimately she makes him a better person and he could not live without her.
Best Man and big cousin Tom has always been best of pals with Joe. As children Tom should have set a good example but Joe was always copying him and getting into trouble. Tom was also an unofficial student at Loughborough uni, but his visits were mainly to take advantage of the 2-4-1 cocktails! Joes three main loves are golf, Leeds United and Ellie. Tom thinks Ellie is fun, thoughtful, caring and he admires her unconditional love for Jo, and the pair are living proof that the harder you work the luckier you get.
Ellie was last to say a few words, and she toasted her brilliant bridesmaids with a Smirnoff Ice boat race in homage to the Hen Do. While she might be a Northerner now, she is adamant she will never call Dinner, Tea! After 8 ½ amazing years together, there's no one that makes her feel like Joe does, safe content, supported, loved and happy. Ellie thanked him for asking the questions she always hoped he would and for being her soulmate.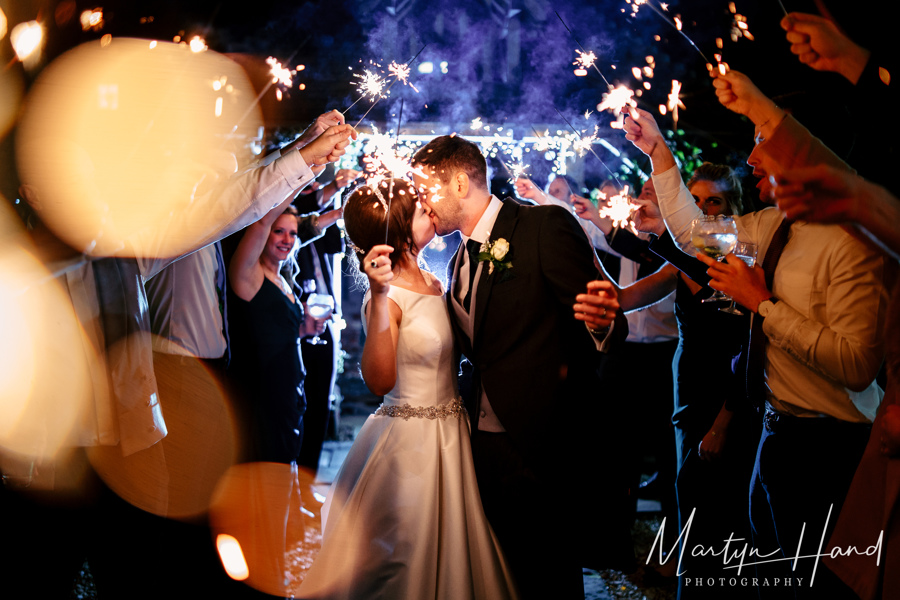 Suppliers on the day…
Photographer
Videographer
Caterer
Cake
Transport
Dove Cars
Florist
Band
Hair and Make Up
Dress
Thimbelina of York (Alterations)
Wed2Be (Bridesmaids)
Suits