It was set to be a snowy weekend at Hornington, and on Friday, both Nicole and Chris were very hard at work. Chris was busy preparing and tending to 7 slowcookers filled with curries and chilli ready for his guests to enjoy when they arrived. He was also making all the delicious canapés for the wedding himself, which is definitely no mean feat! Nicole was in the wedding barn most of the day, turning it into the most beautiful and dreamy setting for their celebrations. When Friday evening arrived, Nicole and Chris couldn't wait to get to sleep!
Nicole's mum, Denise, and Nan had made all the bunting for the wedding barn and the cravats and kerchiefs for the groomsmen by hand, which is such a lovely personal touch. Nicole's Nan also hand made all the wedding invites, it was a really family effort!
Nicole looked absolutely incredible. Her hair and makeup was done to perfection and her dress was stunning. Dressed in various pastel shades, her bridesmaids were beautiful.
The ceremony was held in the Gallery. Dried lavender and rose petals lined the aisle, and the whole Gallery smelt incredible! At the end of the aisle stood a beautiful archway decorated with dried hydrangeas, kindly donated by Nicole's work colleagues. Nicole and Denise had painstaking decorated the archway themselves earlier in the week and it looked fantastic.
The ceremony was beautiful. As Chris and Nicole became husband and wife, they heard a lovely reading-
'Marriage is about giving and taking,
And forgiving and forsaking.
Kissing and loving and pushing and shoving.
Caring and sharing and screaming and swearing.
About being together whatever the weather,
About being driven to the end of your tether.
About sweetness and kindness, and wisdom and blindness.
It's about being strong when you're feeling quite weak,
It's about saying nothing when you're dying to speak.
It's about being wrong when you know you are right,
It's about giving in before there's a fight.
It's about you two living as cheaply as one,
(You can give us a call if you know how that's done!)
Never heading advice that was always well meant,
Never counting the cost until it's all spent.
And for you two today it's about to begin,
And for all that the two of you had to put in.
Some days filled with joy, and some days with sadness,
Too late you'll discover that marriage is madness.'
Once the ceremony was complete, Nicole and Chris were whisked around the house  and grounds for photos by the wonderful Mark J Hillier. The Mini Beast from the East had hit and so it was near impossible to get any shots in the wind outside, but Mark still managed to take some beautiful photos!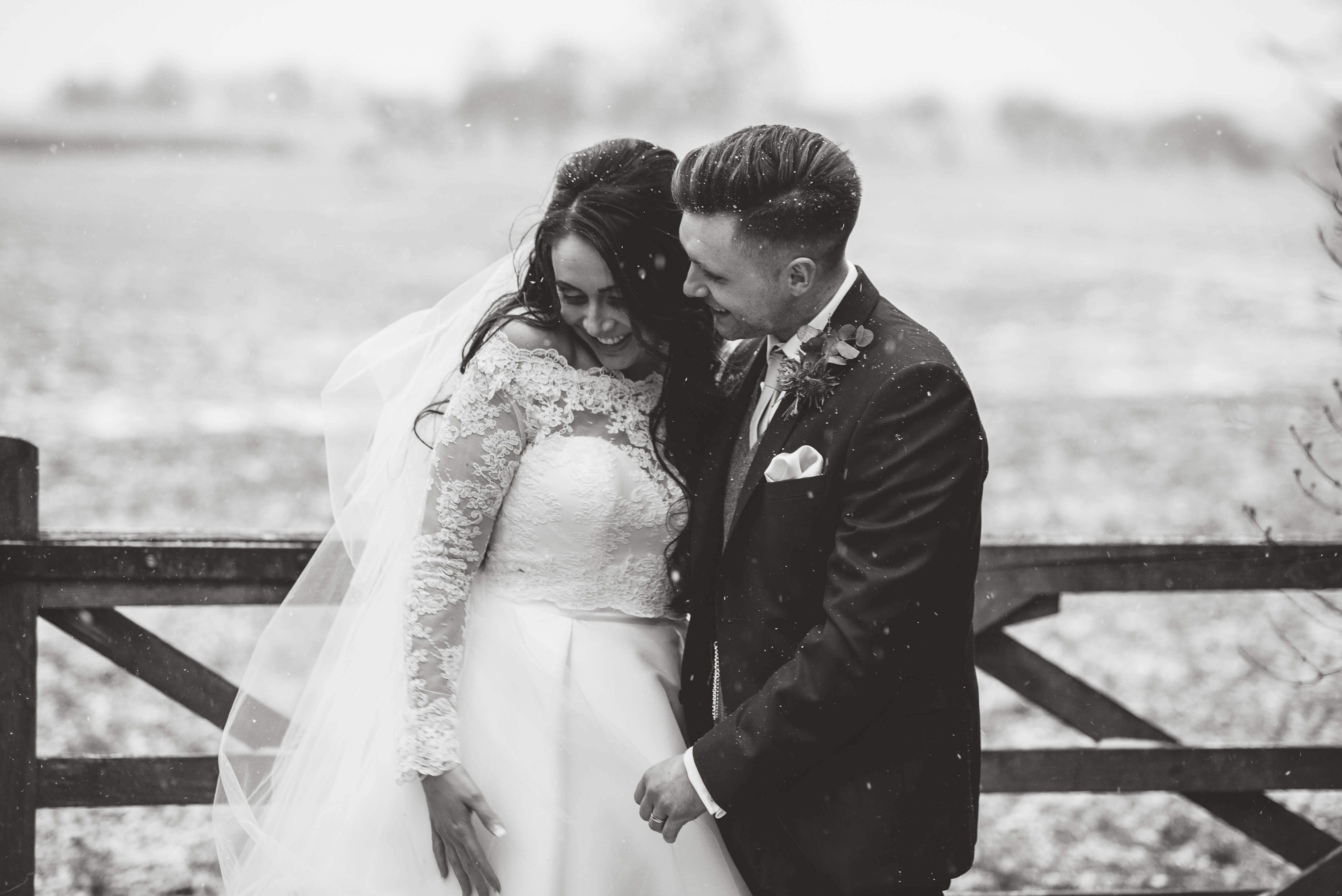 Guests loved the homemade canapés and enjoyed prosecco and beers in the Ballroom and Snooker Room. Nicole was so proud of what she had created in the Wedding Barn, and rightly so! All their guests waited outside the huge barn doors while Nicole and Chris slid it back for the big reveal! Inside they found their tables, decorated with wax dripped wine bottle candle holders, an array of litte jars filled with dried hydrangas, lavender and barley springs. Place name holders were little glass jars of sweets, and each guest had a sparkler, ready to 'Let Love Sparkle' in the evening.
Nicole and Chris's cake table was a thing of dreams! A huge three-tiered cake iced with vanilla buttercream, sat proudly, surrounded by vanilla cupcakes, all of which were loving made by Nicole's very talented sister. Glass jars filled with pick 'n' mix sweeties sat next to a wicker basket card box.
Behind the top table sat huge light up letters spelling out 'Mr & Mrs Hedges' curtesy of Marvelous Glow, and marvelous they were! Polaroid photos of Bride and Groom over the years they have been together were strung along the walls of the dancefloor. It was such a lovely touch.
It was soon time for the speeches, and Nicole's mum Denise was up first. She told how she had been saving money for Nicole's university fund for years and years, only to be told by Nicole the she didn't want to go to uni. Denise built a conservatory instead, only to discover that Nicole had now changed her mind! Nicole funded her degree herself by working 3 jobs! And it was at university that she met Chris, when they moved in together as part of a house share.
Nicole's family are from Kent, and with Chris being from Newcastle, he still has to talk slower for Denise to understand him! Chris was asked, how would you describe Nicole in 3 words? His answer- 'She's always right!' His favourite thing about Nicole- 'She's the full package'.
Chris thanked Denise and Nicole's family for making him feel so welcome. He said he knows that if you treat Denise's girls right, you will always be considered one of the family. He thanked his parents, saying Nicole is the daughter they never had, and he thinks they prefer Nicole to him a lot of the time! But the biggest thank you had to go to his best friend, partner in crime and beautiful wife Nicole, who is just as beautiful on the inside- she is thoughtful, caring and selfless. Also, Chris has never met anyone so right on so many occasions!!
Chris's Dad David, shared how his son Chris is a tremendous guy and he couldn't have found a better girl.
As evening fell and the snow storm raged outside, Chris and Nicole took to the dance floor for their first dance, to a lovely version of  'I Can't Help Falling in Love With You'. Guests then partied the night away!
Thank you for sharing your day with us at Hornington and we wish you the very best as Mr and Mrs Hedges.
Suppliers on the day…
Florist
Caterer
Photographer
Light Up Letters